How To Use Blogging To Improve SEO Of Your Business Website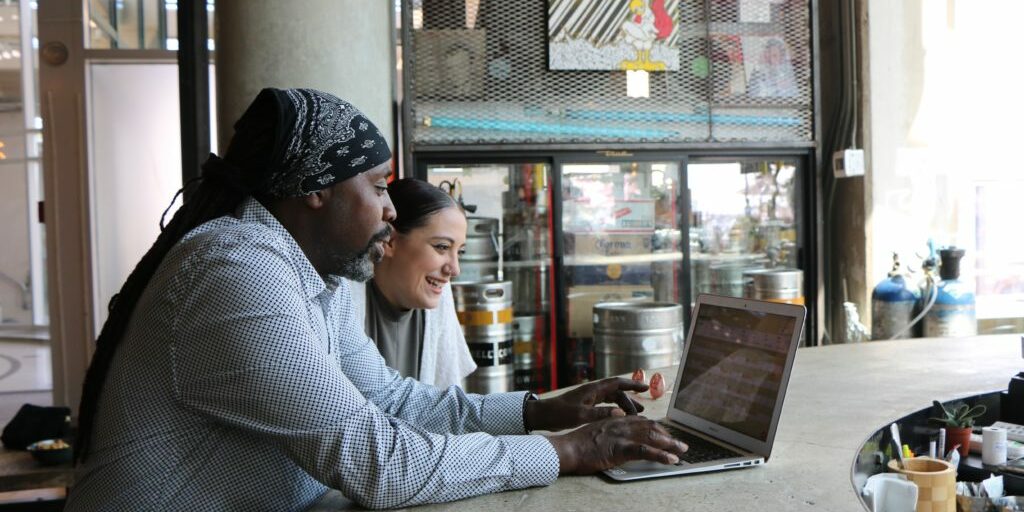 The use of blogging to improve SEO of your website is another critical piece of growing traffic to your site. Both components — writing a blog and making it SEO-rich — are important ways of shining a light on your business. And they are two of the most influential, sustainable ways of capturing your target audience and directing it to your website.
"If you build it, they will come" may have been enough inspiration to draw a scandalized baseball team out of history. And it may have been enough to magnetize a bumper-to-bumper line of hardball fans to a plowed cornfield in Iowa. But it won't be enough to get an audience to your brain-child of a website.
It won't even be enough to get seekers to the blog that is intended to draw them to your website.
While you may dream of that endless line of headlights crawling in your direction, more roadmapping and signage are required. Blogging is the map. Strategically blogging to improve SEO is the signage.
Before getting to the how, it's important to understand the why. If you can embrace the reasons for blogging as essential to your very product or service, the how-to will flow.
Build your 'why' and the 'how' will come.
If you're going to understand how SEO marketing works, you need to get comfortable with why it works. By keeping in mind the vision for your business and the integrity of what you offer, blogging will become a more natural process.
Here are just a few key merits of blogging. To improve SEO, use these fundamentals as your guiding motivation.
Blogging keeps fresh, current info on your website.

You've spent years developing your product or service. You've spent months (and probably a ton of cash) creating your website. You will surely make improvements on these as needed, but these two areas aren't your areas of fluidity. They are the anchors of your business.

So how do you keep the energy moving toward and through your business and online presence? You guessed it. Blogging.

Think of your website as the scaffolding that allows fresh, relevant, answering-the-call content to flow in and out. This is how search engines recognize that you are "in the ballpark" of what is relevant and sought-after on the web. And they really, really like that.
Blogging helps you engage with your audience.

Ask not what your audience can do for you. Ask what you can do for your audience. Keep this mantra at the core of your blogging mission, and it will drive both your process and your success.

Blogging is your way of saying to the world, "I'm listening. I care about what you are asking/wanting/needing, and I am here with a response (and product) I know can help."

This is your chance to offer something of value to your target audience without asking for anything. It's also your chance to get feedback so you can improve what you offer, both in your business and in your blogs.
Blogging keeps readers on your website longer.

It doesn't take long to look at a product picture or read a description and price. And if you have visited the same website in the past, your mind will likely "blah-blah-blah" right over most of what's there.

But offer a substantive blog article that just magically reads a visitor's mind and answers an important question, and voila! Now that visitor is on your website for a long read, adding to the 'dwell time' that Google seems to favor.

And, if you have used your blogging to improve SEO, your reader will be clicking on your internal links. And that means more time visiting other pages on your website…and seeing your business with fresh eyes.
Ever wonder how 'blog' got its name? What you may think of as a must-do technical rodeo for your business was once a simple 'web log'. That 'weblog' became a 'blog,' which became a powerful driver of website and business accessibility.
And that implies some rules of the game.
If you want to use blogging to improve SEO of your business website, here are some essentials from the playbook:
Optimize, optimize.

Think of optimization as your 'technical umbrella.' If you were a professional closet organizer in Manhattan, "Optimize!" would be your battlecry. Every inch of space would matter, and therefore every nook, cranny, and container would be an opportunity.

When you are blogging for SEO, you are looking for every opportunity to reach and attract your audience.

But remember, authenticity and strategy are essential. You aren't trying to "dump" on your audience. You are trying to help your readers get what they need — even if that means adjusting what you offer and how you offer it.

Therefore, what you present, why and how you present it, and where you direct your audience all matter. And they are all opportunities that should never be left on the table.

This translates to optimizing not only the content of your blog posts, but their titles, meta descriptions and images too.
Give your blog a name.

Naming a blog is an optimization opportunity that many business owners pass over in their SEO marketing strategies. And it's a simple thing that puts up one more road sign pointed in your direction.

Instead of just putting "Blog" in your website headings, use keywords in the title. "Small-House Living Blog" will help draw someone doing an organic search for how-to minimal living to the blog part of your website.

Another small-but-mighty opportunity to connect with your target audience.
Use long-tail keywords.

Do you want to be a small fish in a big pond or a big fish in a small pond? In other words, do you want to show up on page 5 or page 1 of Google search?

SEO is competitive. And search engine algorithms are unforgiving. There are big fish out there that will always show up first if you search for general, one-word keywords. And if you are the small fish catering to a niche pond, you will never get noticed in those searches.

Believe it or not, most organic searches are four words or longer. And that's great news for you if you are a small business owner relying on local SEO.

"Neon fishing lures for walleye" may not be strategic on your product pages. But it could be the perfect keyword phrase for a blog post during walleye spawning season.

Just because a keyword doesn't bring your audience to the front door doesn't mean a side door or window won't work.
Create an effective URL.

Always remember that blogging to improve SEO is about directing traffic.

The URL is the rail system that directs traffic directly to a desired destination. It is also like the address on the front of an envelope. "Deliver here." 

When creating a URL for your blog, make it descriptive, concise, and memorable. Include the blog's keyword early in the address and exclude conjunctions like "and."

For example, the URL for the KJ Content Marketing blog page is https://kjcontentmarketing.com/what-is-content-marketing-blog/. You'll notice that it contains the keyword "what is content marketing" where each word is separated by hyphens and that -blog is appended.

Creating a URL for your blog in this format can make it easier for you to run reports in Google Analytics and see how each of your blog posts is performing. (You can think of your URL as a sorting or filtering step in your reporting.)
Write to a target audience.

Blogging gives you the opportunity to answer specific questions for specific audience members.

By blogging consistently and regularly, you have the opportunity to "take turns" with your audience. Today you're talking about those neon fishing lures for walleye because it's spawning season in Lake Erie. But next week you're talking about the best areas of Lake Erie for catching walleye. And the next week you're writing about what to look for in a fishing reel or why licensing is important.

Your fishing-equipment business is now more than just a place for people to spend their money and hope they get a good product. It's a resource for information on topics that make your audience need your business in the first place. And you become a trusted expert — even a virtual friend. (And, as we all know, people buy from those they know, like, and trust.)
Highlight older high-quality content.

Blogging is all about content. People want meaningful content that is worth their search and reading time. And Google's goal is to direct people to what they want.

It takes time to create meaningful content. But you will get a lot more mileage out of well-done, helpful content than you will from just throwing something out there.

Point to other quality content (more road signs) by using internal links and connecting posts to other related posts. Think of those handy "If you like this, you might also like…" shortcuts when you are shopping online.
Being in business can seem like a lesson in "nothing is ever enough." Having a great product or service isn't enough. Now you have to market it. Putting up a storefront or website isn't enough because now you have to go out and direct traffic. Blogging isn't enough because now you have to learn, implement, and keep up with SEO strategies.
When it all seems overwhelming, step back into the mindset that formed the mission of your business in the first place. What are you offering and why? Who are the people you are trying to reach? How are you trying to benefit their lives? If you were meeting a customer for coffee and conversation, what would you be listening for? And what would you say or do to create a beneficial solution for your customer?
This mindset is at the heart of blogging. Embrace that and you will naturally, enthusiastically start growing your skillset for blogging to improve SEO for your business.
And yes, they will come.