The content marketing case study that started KJ Content Marketing.
You'll notice that we give a lot of dates and data in this case study. We do that you so can see everything that went into the genesis of KJ Content Marketing. And by everything we mean the stumbles and mistakes too.
Beginning A Business
After completing her coach training, Karen Finn began her coaching career in 2007. The first step was marketing. As a first step in getting the word out and market her business, she decided she to get business cards, a brochure, and a website. This is the website she and her husband, Jim, created.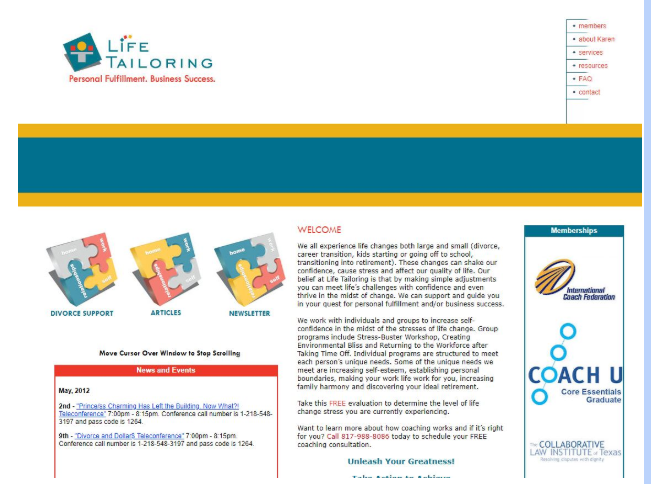 It sure wasn't pretty, but it was functional. And a couple of people visited it, every once in a while, after Karen met someone new at a networking meeting.
Despite her consistent networking, her business just wasn't growing as quickly as she wanted. So in 2008, Karen expanded her marketing efforts. She began writing articles and sending a quarterly newsletter containing links to her website. (This was her first marketing funnel.)
Everytime she sent a newsletter a few people would visit her website. So, she started writing more and sent her newsletter out monthly which did provide for modest increases in the number of people visiting her website and her gross revenue.
Finding A Niche
Over the years, Karen consistently noticed that the majority of her clients were dealing with divorce in some way. So in 2011, she shifted her focus to divorce coaching, continued her speaking and newsletters with a more targeted message about healing from divorce and released a new website.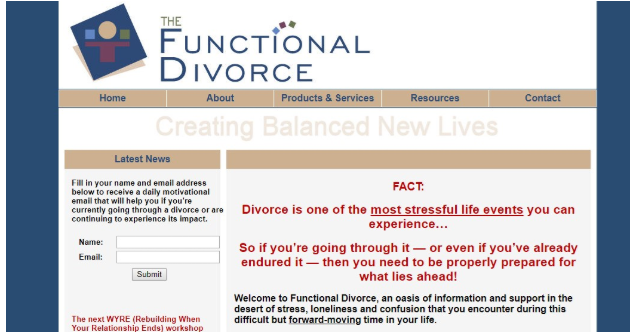 This website wasn't much more attractive that her first one. Yet traffic to this new website averaged 162 visitors per month over its first two years and people registered for her newsletter directly from the site. In fact, the number of people who were subscribed to her newsletter had grown by more than 60% by the end of July 2013.
Discovering The Power Of Content Marketing
In August 2013, Karen became a member of a unique online magazine that promotes articles written by helping and healing professionals. She took full advantage of her membership and began consistently writing for the magazine.
Many of her articles were syndicated to sites like Prevention, Huffington Post, Yahoo! Parenting, PsychCentral, and eHarmony.
Having her articles appear on so many different sites brought more people to her website. In fact, the average number of people visiting her site more than doubled to 374 each month.
And that's when Karen first understood the power of content marketing.
She saw the potential for how it could grow her business. And she wanted to learn more lots more. So, in 2015 she hired a business coach who specialized in working with coaches and therapists to grow their online businesses.
Putting Search Engine Optimization (SEO) Into Practice
Content marketing is about creating content that people are interested in. And a website called FunctionalDivorce.com was not only confusing, but it was off-putting.
So the first thing we tackled was branding. We rebranded her work with her name - DrKarenFinn.com.
Once we had the name, we created a more friendly and inviting website that would allow visitors to easily find the information they were looking for.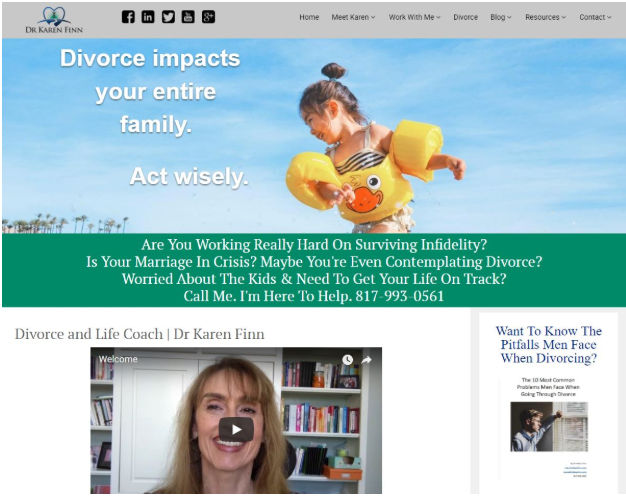 Karen released this new site in August 2015.
Then the research-intensive work of figuring out how people look for support as they deal with divorce began. Based on the research, we developed a powerful SEO strategy for her website
that targeted her ideal clients and provided a path for growth given the popularity of her website. Each page of her site and every blog she would write fit into the SEO strategy.
And write she did. Karen decided to write 2 blogs a week for her site. It was a lot of work, but she knew, based on the writing she had already done and continued to do for the online magazine, that the writing (content marketing) would grow her business at a greater pace than speaking or face-to-face networking or even buying ads ever would.
And the results show that all the work definitely paid off.
What Content Marketing Can Do
When Karen first released her website, she had a modest number of people visiting each month - 236. However, with consistently and persistently blogging for 10 months the number of people visiting her site grew to 5,000 by June 2016. And at the end of April 2018, that number rose to nearly 1,000 visitors a day. That's a 12,000% increase in people visiting her site in just over 2½ years!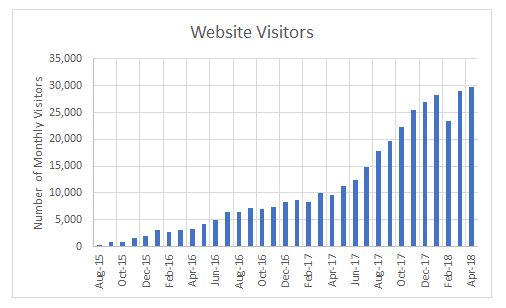 As Google and the other search engines learned that the visitors to Karen's site liked what they found there, the search engines began assigning more and more keywords to her web pages and blog posts. And as the search engines assigned more keywords, more people found her site.
And that's exactly what a solid content marketing strategy will do for you.
By creating a welcoming and user-friendly website, implementing a powerful SEO strategy and focusing on a solid content marketing strategy, Karen's business completely changed. Her gross revenue has increased by 300%!
And it keeps growing...
Ready to increase your website traffic and sales?
KJ Content Marketing can help you grow your business online just like Karen did.
To learn more, please contact us and someone from our team will reach out to you within 48 business hours.